EQUITIES END THE WEEK MIXED AGAIN AS DRAMA UNFOLDS IN WASHINGTON AND AS OIL DROPS A WHOPPING 9% ON THE WEEK
Weekly Market Update — October 7, 2023
Equities closed out the first week of September mixed, as NASDAQ (+1.6%) and the large-cap S&P 500 (+0.5%) squeaked out modest gains while the mega-cap DJIA (-0.3%) barely registered a loss
The smaller-cap Russell 2000, on the other hand, had a rough week, losing 2.2% and pushing it into the red for the year (-0.9% YTD)
Of the 11 S&P 500 sectors, most of them fell as 8 declined, led by Energy (-5.4%), Consumer Staples (-3.1%), and Utilities (-2.9%)
Of the 3 sectors that advanced, Information Technology (+3.1%) and Communication Services (+2.9%) were the big winners
The Energy sector's big decline was driven by a steep 8.8% drop in WTI Crude, which fell to $83.04/barrel
Treasury yields kept moving higher, and the 10-year leapt 20 basis points to 4.78% while the 2-year rose only 2 basis points to end the week at 5.06%
In economic news, Friday saw another stronger-than-expected employment report, although average hourly earnings growth slowed to 4.2% year-over-year
The September ISM Services PMI showed a slight deceleration in the pace of expansion versus August
Finally, there was a definite worry-cloud hanging over Wall Street as drama in Washington saw the House vote 216-210 in a never-before action to oust Kevin McCarthy as Speaker of the House
Weekly Market Performance
| | | | |
| --- | --- | --- | --- |
| | Close | Week | YTD |
| DJIA | 33,408 | -0.3% | +0.8% |
| S&P 500 | 4,309 | +0.5% | +12.2% |
| NASDAQ | 13,431 | +1.6% | +28.3% |
| Russell 2000 | 1,746 | -2.2% | -0.9% |
| MSCI EAFE | 1,993 | -1.7% | +2.6% |
| *Bond Index | 2,000.31 | -0.33% | -0.38% |
| 10–Year Treasury Yield | 4.78% | +0.20% | +0.9% |
*Source: Bonds represented by the Bloomberg Barclays US Aggregate Bond TR USD. This chart is for illustrative purposes only and does not represent the performance of any specific security. Past performance cannot guarantee future results.
Stocks, Equities Mixed as Oil Prices Tumble
Wall Street closed out the first week of September mixed, as small-caps (Russell 2000) and mega-caps (DJIA) declined while the tech names (NASDAQ) and large-caps (S&P 500) advanced. Thankfully, the S&P 500 snapped its four week losing streak this week too.
Not surprisingly, the Growth stocks outpaced the Value Stocks and the larger-caps trounced the smaller-caps. And unfortunately, this weeks big 2.2% decline in the smaller-cap Russell 2000 pushed the index into negative territory for the year.
The 10-year Treasury yield moved above 4.80% this week, a rate last seen in 2007. Some attribute the increase in Treasuries to the Feds "higher-for-longer" mantra, but others are suggesting that we might be at an inflection point, as the 10-year and the core Consumer Price Index have recently crossed paths.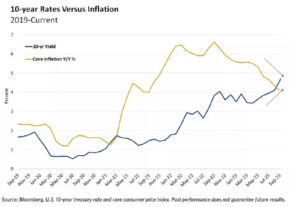 There was a lot of economic data this week, including that:
The September ISM Manufacturing PMI came in at 49.0%, up from 47.6% in August (the dividing line between expansion and contraction is 50.0%)
September marked the 11th straight month the PMI reading has been below 50.0%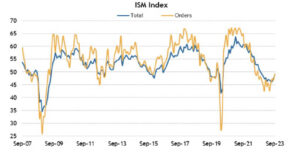 Total construction spending increased 0.5% month-over-month in August
Total private construction was up 0.5% month-over-month while total public construction increased 0.6% month-over-month
On a year-over-year basis, total construction spending was up 7.4%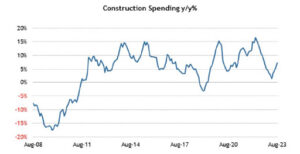 The ADP Employment Change report indicated that private payrolls grew by 89,000 in September
The weekly MBA Mortgage Applications Index fell 6.0% with purchase applications declining 6.0% and refinance applications plunging 7.0%
The ISM Services PMI decreased to 53.6% in September, from 54.5% in August
September marked the ninth consecutive month of growth for the services sector
Factory orders jumped 1.2% month-over-month in August
Excluding transportation, factory orders increased 1.4% month-over-month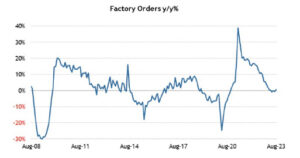 Weekly Initial Claims were 207K
September Nonfarm Payrolls were 336K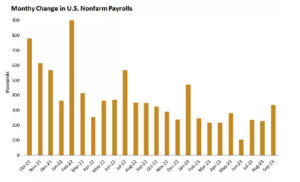 Consumer credit decreased by $15.6 billion in August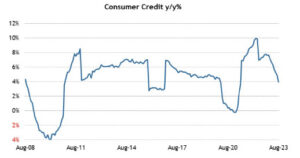 Private Sector Employment and Pay Growth Both Slow in September
On Tuesday, it was announced that private sector employment increased by 89,000 jobs in September and annual pay was up 5.9% year-over-year, according to the September ADP National Employment Report.
"We are seeing a steepening decline in jobs this month. Additionally, we are seeing a steady decline in wages in the past 12 months."
Jobs ReportPrivate employers added 89,000 jobs in September and September showed the slowest pace of growth since January 2021, when private employers shed jobs.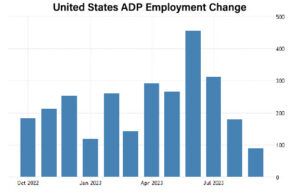 Further, large establishments drove the slowdown, losing 83,000 jobs and wiping out gains they made in August.
Pay Growth Slowed
Pay growth slowed again in September as job stayers saw a 5.9% year-over-year pay increase in September
This marks the 12th straight month of slowing growth.
Pay gains also shrank for job changers, to 9%, down from 9.7% in August.
Sources
adpemployment.com ;ismworld.org ;census.gov ;msci.com;fidelity.com;nasdaq.com;wsj.com; morningstar.com;
✅ BOOK AN APPOINTMENT TODAY: https://calendly.com/tdwealth
===========================================================
SEE ALL OUR LATEST BLOG POSTS: https://tdwealth.net/articles
If you like the content, smash that like button! It tells YouTube you were here, and the Youtube algorithm will show the video to others who may be interested in content like this. So, please hit that LIKE button!
Don't forget to SUBSCRIBE here: https://www.youtube.com/channel/UChmBYECKIzlEBFDDDBu-UIg
✅ Contact me: TDavies@TDWealth.Net
====== ===Get Our FREE GUIDES  ==========
Retirement Income: The Transition into Retirement: https://davieswealth.tdwealth.net/retirement-income-transition-into-retirement
Beginner's Guide to Investing Basics: https://davieswealth.tdwealth.net/investing-basics
✅ LET'S GET SOCIAL
Facebook: https://www.facebook.com/DaviesWealthManagement
Twitter: https://twitter.com/TDWealthNet
Linkedin:  https://www.linkedin.com/in/daviesrthomas
Youtube Channel: https://www.youtube.com/c/TdwealthNetWealthManagement
Lat and Long
27.17404889406371, -80.24410438798957
Davies Wealth Management
684 SE Monterey Road
Stuart, FL 34994
772-210-4031
DISCLAIMER
**Davies Wealth Management makes content available as a service to its clients and other visitors, to be used for informational purposes only. Davies Wealth Management provides accurate and timely information, however you should always consult with a retirement, tax, or legal professionals prior to taking any action.