NASDAQ TURNS IN ANOTHER HOT WEEK AS THE OTHER EQUITY MARKETS STRUGGLE AMIDST DEBT CEILING WORRIES AND FED-HIKE CONCERNS
Weekly Market Update — May 27, 2023
Equity markets saw a lot of volatility on the week, but finished Friday on a positive note going into the long holiday weekend
NASDAQ continued its torrid pace, jumping 2.5%, far outpacing the paltry 0.3% gain for the S&P 500, the flatness of the smaller-cap Russell 2000 (-0.0%) and the backward sliding DJIA (-1.0% on the week)
Of the 11 S&P 500 sectors, only three advanced, as Information Technology (+5.1%), Communication Services (+1.2%), and Consumer Discretionary (+0.4%) outperformed
Consumer staples (-3.2%) and Materials (-3.1%) were the two worst sector performers on the week
The main theme of the week was the back and forth between House Republicans and the White House over the debt ceiling, as worries escalated when Fitch Ratings put the nation's AAA rating on Credit Watch Negative
Underneath the debt ceiling worries were more Fed worries, as Minneapolis Fed President Kashkari said that a decision to pause in June is a close call whereas St. Louis Fed President Bullard said he thinks two more rate hikes are needed this year
According to the CME FedWatch Tool, there is a 65.4% probability of a 25 basis points rate hike in June
Q1 GDP was revised up to 1.3% from 1.1% and the Personal Income and Spending Report on Friday showed strong consumer spending
Treasury yields moved up this week as the 2-year Treasury rose 29 basis points to 4.56% and the 10-year Treasury rose 10 basis points to 3.80%
The U.S. Dollar Index rose 1.0% to 104.23
Weekly Market Performance
| | | | |
| --- | --- | --- | --- |
| | Close | Week | YTD |
| DJIA | 33,093 | -1.0% | -0.2% |
| S&P 500 | 4,205 | +0.3% | +9.5% |
| NASDAQ | 12,976 | +2.5% | +24.0% |
| Russell 2000 | 1,773 | +0.0% | +0.7% |
| MSCI EAFE | 2,081 | -2.7% | +7.0% |
| *Bond Index | 2,073.27 | -0.19% | +3.19% |
| 10–Year Treasury Yield | 3.80% | +0.10% | -0.1% |
*Source: Bonds represented by the Bloomberg Barclays US Aggregate Bond TR USD. This chart is for illustrative purposes only and does not represent the performance of any specific security. Past performance cannot guarantee future results.
Equities Mixed This Week Ahead of Long Holiday Weekend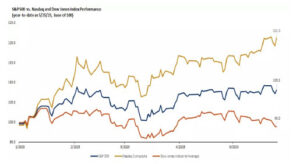 The major U.S. equity indices had a mixed week, as the tech-laden NASDAQ jumped 2.5%, far outpacing the tiny gain from the large-cap S&P 500 (+0.3%), the decline of the mega-cap DJIA (-1.0%) and the flatness of the smaller-cap Russell 2000 (-0.0%). Maybe more interesting is that after this week's close, the DJIA inched into negative territory for the YTD (-0.2%) whereas NASDAQ is up a staggering 24.0%.
The theme of the week was uncertainty surrounding debt ceiling negotiations, with Wall Street parsing through every speech hoping for a sign of progress in negotiation the debt ceiling by June 1st.
There was a lot of economic data to digest this week, including that:
The IHS Markit Manufacturing PMI fell to 48.5 in the preliminary May reading from 50.2.
The IHS Markit Services PMI rose to 55.1 in the preliminary May reading from 53.6.
New home sales increased 4.1% month-over-month in April.
On a year-over-year basis, new home sales were up 11.8%.
The weekly MBA Mortgage Application Index dropped 4.6% with purchase applications falling 4.0% and refinance applications dropping 5.0%.
The second estimate for Q1 GDP was revised up to 1.3%.
Initial claims for the week ending May 20 increased by 4,000 to 229,000.
Personal income increased 0.4% month-over-month in April.
Personal spending increased 0.8% month-over-month.
The PCE Price Index increased 0.4% month-over-month and was up 4.4% year-over-year versus 4.2% in March.
The core-PCE Price Index, which excludes food and energy, was up 0.4% and was up 4.7% versus 4.6% in March.
Durable goods orders increased 1.1% month-over-month in April.
Excluding transportation, durable goods orders declined 0.2% month-over-month in April.
The Advance Intl. Trade in Goods Report for April showed a widening in the deficit to $96.8 billion.
Retail Inventories jumped 0.2% while Advance Wholesale Inventories declined 0.2%.
The final University of Michigan Consumer Sentiment Index for May came in at 59.2.
Markets will be closed on Monday, May 29th, in observance of Memorial Day.
First Quarter 2023 GDP Revised Up
"Real gross domestic product increased at an annual rate of 1.3% in the first quarter of 2023, according to the "second" estimate released by the Bureau of Economic Analysis. In the fourth quarter, real GDP increased 2.6%.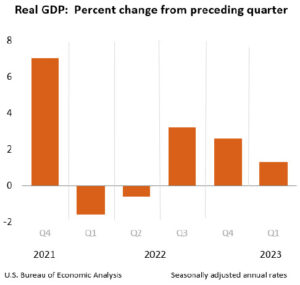 The GDP estimate is based on more complete source data than were available for the "advance" estimate issued last month. In the advance estimate, the increase in real GDP was 1.1%. The updated estimates primarily reflected an upward revision to private inventory investment.
The increase in real GDP reflected increases in consumer spending, exports, federal government spending, state and local government spending, and nonresidential fixed investment that were partly offset by decreases in private inventory investment and residential fixed investment. Imports, which are a subtraction in the calculation of GDP, increased."
Consumer Sentiment Drops to 6-Month Low
"Consumer sentiment slid 7% amid worries about the path of the economy, erasing nearly half of the gains achieved after the all-time historic low from last June. This decline mirrors the 2011 debt ceiling crisis, during which sentiment also plunged. This month, sentiment fell severely for consumers in the West and those with middle incomes. The year-ahead economic outlook plummeted 17% from last month. Long-run expectations plunged by 13% as well, indicating that consumers are concerned that any recession to come may cause lasting pain. That said, consumer views over their personal finances are little changed from April, with stable income expectations supporting consumer spending for the time being."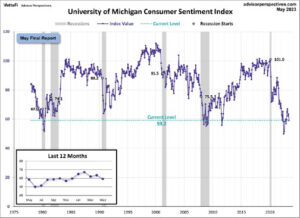 "Year-ahead inflation expectations receded to 4.2% in May after spiking to 4.6% in April. Uncertainty, as measured by the interquartile range of these expectations has been elevated, averaging 7.8 over the last 12 months, but fell this month to 5.7, the lowest level of uncertainty in almost two years. This suggests that consumer views over short-run inflation may be stabilizing following four months of vacillation. Long-run inflation expectations inched up for the second straight month but remained within the narrow 2.9-3.1% range for 21 of the last 22 months."
Sales of New Single-Family Houses Are Up While Building Permits Are Not
The U.S. Census Bureau and the U.S. Department of Housing and Urban Development jointly announced the following new residential sales statistics for April 2023:
Sales of new single-family houses in April 2023 were at a seasonally adjusted annual rate of 683,000.
This is 4.1% above the revised March rate of 656,000.
This is 11.8% above the April 2022 estimate of 611,000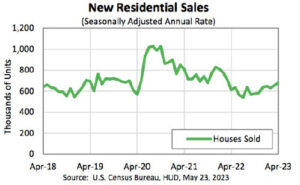 The median sales price of new houses sold in April 2023 was $420,800.
The average sales price was $501,000.
This represents a supply of 7.6 months at the current sales rate.
Residential Construction
This is on the heels of the following new residential construction statistics for April 2023:
Building Permits
Privately-owned housing units authorized by building permits in April were at an annual rate of 1,416,000.
This is 1.5% below March and is 21.1% below the April 2022 rate.
Single-family authorizations in April were at a rate of 855,000. This is 3.1% above the March figure.
Housing Starts
Privately-owned housing starts in April were at an annual rate of 1,401,000. This is 2.2% above March but is 22.3% below the April 2022 rate.
Single-family housing starts in April were at a rate of 846,000. This is 1.6% above March.
Housing Completions
Privately-owned housing completions in April were at an annual rate of 1,375,000. This is 10.4% below March, but is 1.0% above the April 2022 rate.
Single-family housing completions in April were at a rate of 971,000 This is 6.5% below the March rate.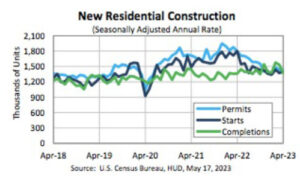 Sources
census.gov; bea.gov; umich,edu; msci.com; fidelity.com; nasdaq.com; wsj.com; morningstar.com;
✅ BOOK AN APPOINTMENT TODAY: https://calendly.com/tdwealth
===========================================================
🔴 SEE ALL OUR LATEST BLOG POSTS: https://tdwealth.net/articles
If you like the content, smash that like button! It tells YouTube you were here, and the Youtube algorithm will show the video to others who may be interested in content like this. So, please hit that LIKE button!💥
🎯🎯🎯Don't forget to SUBSCRIBE here: https://www.youtube.com/channel/UChmBYECKIzlEBFDDDBu-UIg
✅ Contact me: TDavies@TDWealth.Net
🔥🔥🔥 ====== ===Get Our FREE GUIDES  ========== 🔥🔥🔥
🎯Retirement Income: The Transition into Retirement: https://davieswealth.tdwealth.net/retirement-income-transition-into-retirement
🎯Beginner's Guide to Investing Basics: https://davieswealth.tdwealth.net/investing-basics
✅ LET'S GET SOCIAL
Facebook: https://www.facebook.com/DaviesWealthManagement
Twitter: https://twitter.com/TDWealthNet
Linkedin:  https://www.linkedin.com/in/daviesrthomas
Youtube Channel: https://www.youtube.com/c/TdwealthNetWealthManagement
Lat and Long
27.17404889406371, -80.24410438798957
Davies Wealth Management
684 SE Monterey Road
Stuart, FL 34994
772-210-4031
DISCLAIMER
**Davies Wealth Management makes content available as a service to its clients and other visitors, to be used for informational purposes only. Davies Wealth Management provides accurate and timely information, however you should always consult with a retirement, tax, or legal professionals prior to taking any action.