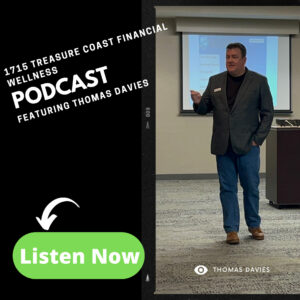 29 June · Season 2 · Episode 7
By Thomas
Helpful Hints as You Think About Your Tax Planning Different deadline, inflation adjustments, tax credits, brackets and more
Helpful Hints as You Think About Your Tax Planning
Different deadline, inflation adjustments, tax credits, brackets and more
April 18 tax deadline –The due date is April 18, instead of April 15, because of the Emancipation Day holiday in the District of Columbia.
2023 tax inflation adjustments –The IRS announced the tax year 2023 annual inflation adjustments  for more than 60 tax provisions, including the tax rate schedules and other tax changes. Specifically, Revenue Procedure 2022-38 provides details about these annual adjustments.

Tax credits for families revert to 2019 levels – You'll likely receive a significantly smaller refund compared to last year because the  Child Tax Credit, the Earned Income Tax Credit and the Child and Dependent Care Credit amounts revert to pre-COVID levels:
The CTC is worth $2,000 for each qualifying child for 2022. A child must be under age 17 at the end of 2022 to be a qualifying child.
For the EITC, eligible taxpayers with no children who received roughly $1,500 in 2021 will now get $560 for the 2022 tax year.
The Child and Dependent Care Credit returns to a maximum of $2,100 in 2022 instead of $8,000 in 2021.
Form 1099-K reporting threshold still $20,000 – For 2022, third-party settlement organizations who issue Forms 1099-K are only required to report transactions for gross payments over $20,000 (not $600) and more than 200 transactions.
2023 standard mileage rates – Beginning January 1, 2023, the standard mileage rates used to calculate the deductible costs of operating a car (also vans, pickups or panel trucks) are 65.5 cents per mile for business use.
New 2023 Federal Income Tax Brackets
You likely know that inflation boosted the 2023 Federal Income Tax Brackets, but here's how your taxes may compare to 2022:
The IRS makes annual inflation adjustments, including changes to the federal income tax brackets, standard deduction and more.
Based on soaring prices, the agency boosted the income thresholds for each bracket for 2023, applying to returns filed in 2024.
There was roughly a 7% change in the federal income tax brackets from 2022 to 2023. That was a larger increase than usual because inflation has been high.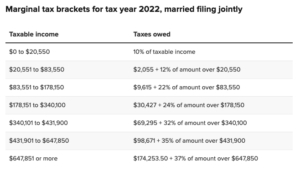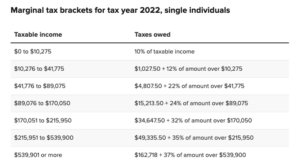 Your Financial Advisor
With tax law changes going into effect and others being proposed, 2023 may be another year for the record books in terms of tax complexity and tax refund volatility. As always. pay close attention to your taxes throughout the year, including a mid-year check-up and another in December to avoid "refund shock" or a possible surprise balance at tax time.
More importantly, before you go down a path that might not be in your best interest long-term, make sure you consult with your financial advisor to determine how any new tax changes and any proposed tax changes might impact you and your family.
✅ BOOK AN APPOINTMENT TODAY: https://calendly.com/tdwealth
===========================================================
🔴 SEE ALL OUR LATEST BLOG POSTS: https://tdwealth.net/articles
If you like the content, smash that like button! It tells YouTube you were here, and the Youtube algorithm will show the video to others who may be interested in content like this. So, please hit that LIKE button!💥
🎯🎯🎯Don't forget to SUBSCRIBE here: https://www.youtube.com/channel/UChmBYECKIzlEBFDDDBu-UIg
✅ Contact me: TDavies@TDWealth.Net
🔥🔥🔥 ====== ===Get Our FREE GUIDES  ========== 🔥🔥🔥
🎯Retirement Income: The Transition into Retirement: https://davieswealth.tdwealth.net/retirement-income-transition-into-retirement
🎯Beginner's Guide to Investing Basics: https://davieswealth.tdwealth.net/investing-basics
✅ LET'S GET SOCIAL
Facebook: https://www.facebook.com/DaviesWealthManagement
Twitter: https://twitter.com/TDWealthNet
Linkedin:  https://www.linkedin.com/in/daviesrthomas
Youtube Channel: https://www.youtube.com/c/TdwealthNetWealthManagement
Lat and Long
27.17404889406371, -80.24410438798957
Davies Wealth Management
684 SE Monterey Road
Stuart, FL 34994
772-210-4031
DISCLAIMER
**Davies Wealth Management makes content available as a service to its clients and other visitors, to be used for informational purposes only. Davies Wealth Management provides accurate and timely information, however you should always consult with a retirement, tax, or legal professionals prior to taking any action.