EQUITIES GIVE BACK MOST OF LAST WEEK'S GAINS AS WALL STREET DIGESTS THE FED'S MINUTES AND SEE ANOTHER RATE HIKE COMING
Weekly Market Update — July 8, 2023
It was another holiday-shortened week due to July 4th, but this time markets took a breather and pulled back, erasing most of last week's gains
The mega-cap DJIA fared the worst, as it dropped 2.0% and is dangerously close to being break-even for the YTD
The smaller-cap Russell 2000 (-1.3%) and the large-cap S&P 500 (-1.2%) both struggled, followed closely by the tech-laden NASDAQ (-0.9%)
The 2-year Treasury yield rose six basis points to 4.94% after cresting above the 5.00% level on Thursday whereas the 10-year Treasury moved above 4.00%, coming to rest up 23 basis points at 4.05%
Of the 11 S&P 500 sectors, only Real Estate (+0.2%) squeaked out a gain, with the worst performers being Health Care (-2.9%), Materials (-2.0%), and Information Technology (-1.5%) sectors
The week saw a lot of economic data, mostly mixed, as stronger than expected ADP Employment Change and ISM Non-Manufacturing Index data and a 0.4% increase in average hourly earnings surprised on the upside
Wall Street also digested the Fed's meeting minutes and expectations for a 25 basis points rate hike in July are strong, with the CME FedWatch Tool placing the probability of a second rate hike at the September meeting to about 25%
Weekly Market Performance
| | | | |
| --- | --- | --- | --- |
| | Close | Week | YTD |
| DJIA | 33,735 | -2.0% | +1.8% |
| S&P 500 | 4,399 | -1.2% | +14.6% |
| NASDAQ | 13,661 | -0.9% | +30.5% |
| Russell 2000 | 1,865 | -1.3% | +5.9% |
| MSCI EAFE | 2,090 | -2.1% | +7.5% |
| *Bond Index | 2,065.08 | -0.25% | +0.80% |
| 10–Year Treasury Yield | 4.06% | +0.23% | -0.2% |
*Source: Bonds represented by the Bloomberg Barclays US Aggregate Bond TR USD. This chart is for illustrative purposes only and does not represent the performance of any specific security. Past performance cannot guarantee future results.
Stocks Close Out the Week Slightly Lower
The major U.S. benchmarks declined this week, as investors digested a slew of economic reports and parsed through every single word from the Fed's meeting minutes thinking more rate hikes are on the near-term horizon.
It was a very quiet trading week and generally speaking, Growth names outshined Value names, but not by much. Tech names outperformed modestly too, mostly driven by a few big tech names, especially Tesla. Markets were closed early Monday and all day Tuesday in observance of the Independence Day holiday.
The main shadow overhanging Wall Street seemed to be the pending release of the minutes from the Federal Reserve's last policy meeting. The minutes showed that the decision to keep rates static was not unanimous, as some members would have preferred another rate hike increase. After the minutes were released, markets priced in a roughly 44% chance of two 25 basis point rate hikes by year 's end.
There was also a lot of economic data this week, including that:
Factory orders increased 0.3% month-over-month in May following a downwardly revised 0.3% increase in April.
Excluding transportation, factory orders declined 0.5% month-over-month.
Shipments of manufactured goods also increased 0.3% month-over-month.
The June ISM Manufacturing Index fell to 46.0% in June from 46.9% in May.
Total construction spending increased 0.9% month-over-month in May.
Total private construction was up 1.1% month-over-month while total public construction rose 0.1% month-over-month.
On a year-over-year basis, total construction spending was up 2.4%.
The May Trade Balance Report showed a narrowing in the trade deficit to $69.0 billion.
Exports were $2.1 billion less than April exports.
Fed Meeting Minutes Released
Earlier this week, the Fed's meeting minutes were released and all indications are that most members think further hikes are on the way. Officials felt that "leaving the target range unchanged at this meeting would allow them more time to assess the economy's progress toward the Committee's goals of maximum employment and price stability."
In addition, the minutes stated that "The economy was facing headwinds from tighter credit conditions, including higher interest rates, for households and businesses, which would likely weigh on economic activity, hiring, and inflation, although the extent of these effect remained uncertain."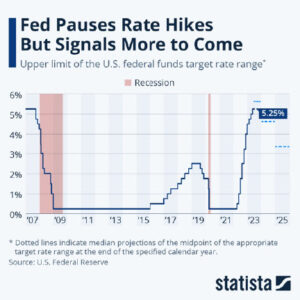 Estimated Earnings Declines Hits -7.2%
On Friday, research firm FactSet reported that:
For Q2 2023, the estimated earnings decline for the S&P 500 is -7.2%. If -7.2% is the actual decline for the quarter, it will mark the largest earnings decline reported by the index since Q2 2020 (-31.6%).
On March 31, the estimated earnings decline for Q2 2023 was -4.7%. Seven sectors are expected to report lower earnings today (compared to Mar. 31) due to downward revisions to EPS estimates.
For Q2 2023, 67 S&P 500 companies have issued negative EPS guidance and 46 S&P 500 companies have issued positive EPS guidance.
The forward 12-month P/E ratio for the S&P 500 is 18.9. This P/E ratio is above the 5-year average (18.6) and above the 10-year average (17.4).
For Q2 2023 (with 18 S&P 500 companies reporting actual results), 14 S&P 500 companies have reported a positive EPS surprise and 12 S&P 500 companies have reported a positive revenue surprise.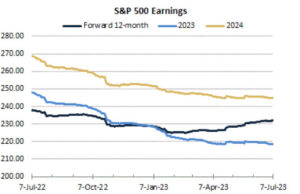 Nonfarm Payrolls Increase
The Bureau of Labor Statistics announced on Friday that total nonfarm payroll employment increased by 209,000 in June, and the unemployment rate changed little at 3.6%. Employment continued to trend up in government, health care, social assistance, and construction.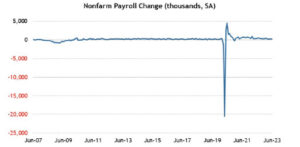 Total Construction Spending Up
New Orders
Construction spending during May 2023 was at an annual rate of $1,925.6 billion, 0.9% above April.
The May figure is 2.4% above the May 2022 estimate of $1,880.9 billion.
During the first five months of this year, construction spending amounted to $740.8 billion, 2.9% above the same period in 2022.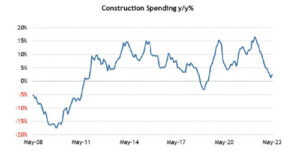 Private Construction
Spending on private construction was $1,513.2 billion, 1.1% above April.
Residential construction was $857.4 billion in May, 2.2% above April.
Nonresidential construction was $655.8 billion in May, 0.3% below April.
Public Construction
In May, public construction spending was $412.4 billion, 0.1% above April.
Educational construction was $87.7 billion, virtually unchanged from April.
Highway construction was $124.6 billion, 0.4% below April.
Manufacturing Contracts Again
The latest Manufacturing ISM Report On Business reported that economic activity in the manufacturing sector contracted in June for the eighth consecutive month following a 28-month period of growth.
"The June Manufacturing PMI registered 46 percent, 0.9 percentage point lower than the 46.9 percent recorded in May. Regarding the overall economy, this figure indicates a seventh month of contraction after a 30-month period of expansion. The New Orders Index remained in contraction territory at 45.6 percent, 3 percentage points higher than the figure of 42.6 percent recorded in May. The Production Index reading of 46.7 percent is a 4.4-percentage point decrease compared to May's figure of 51.1 percent. The Prices Index registered 41.8 percent, down 2.4 percentage points compared to the May figure of 44.2 percent. The Backlog of Orders Index registered 38.7 percent, 1.2 percentage points higher than the May reading of 37.5 percent. The Employment Index dropped into contraction, registering 48.1 percent, down 3.3 percentage points from May's reading of 51.4 percent."
Sources
census.gov; bls.gov; ismworld.org; factset.com; msci.com; fidelity.com; nasdaq.com; wsj.com; morningstar.com;
✅ BOOK AN APPOINTMENT TODAY: https://calendly.com/tdwealth
===========================================================
🔴 SEE ALL OUR LATEST BLOG POSTS: https://tdwealth.net/articles
If you like the content, smash that like button! It tells YouTube you were here, and the Youtube algorithm will show the video to others who may be interested in content like this. So, please hit that LIKE button!💥
🎯🎯🎯Don't forget to SUBSCRIBE here: https://www.youtube.com/channel/UChmBYECKIzlEBFDDDBu-UIg
✅ Contact me: TDavies@TDWealth.Net
🔥🔥🔥 ====== ===Get Our FREE GUIDES  ========== 🔥🔥🔥
🎯Retirement Income: The Transition into Retirement: https://davieswealth.tdwealth.net/retirement-income-transition-into-retirement
🎯Beginner's Guide to Investing Basics: https://davieswealth.tdwealth.net/investing-basics
✅ LET'S GET SOCIAL
Facebook: https://www.facebook.com/DaviesWealthManagement
Twitter: https://twitter.com/TDWealthNet
Linkedin:  https://www.linkedin.com/in/daviesrthomas
Youtube Channel: https://www.youtube.com/c/TdwealthNetWealthManagement
Lat and Long
27.17404889406371, -80.24410438798957
Davies Wealth Management
684 SE Monterey Road
Stuart, FL 34994
772-210-4031
DISCLAIMER
**Davies Wealth Management makes content available as a service to its clients and other visitors, to be used for informational purposes only. Davies Wealth Management provides accurate and timely information, however you should always consult with a retirement, tax, or legal professionals prior to taking any action.